OPPORTUNITIES
Want your artwork on the cover of 'Everything is Art' Magazine?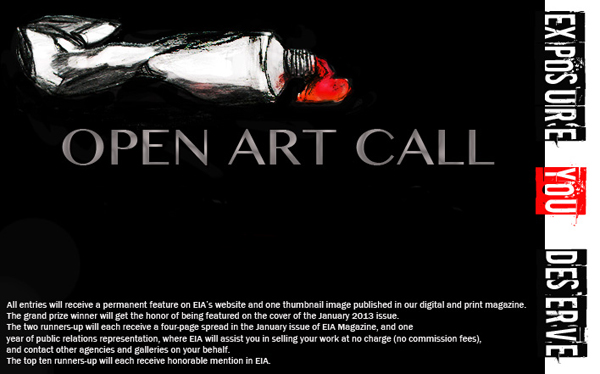 ---
ARTISTS WANTED

Artisan Direct Ltd. has committed to building Art Spaces in the following Cities

Cleveland, Ohio – Opening November 9th, 2012
Port Jefferson, New York – Opening October 13th, 2012
Ft. Lauderdale, Fl. – Opening November 1st, 2012
New York City – Opening January, 1st, 2013
Chicago, Ill. – Opening Summer of 2013

Artisan Direct is looking for Artists who would like to become Members of the new Art Spaces that the Company is building. Please see Gallery Membership benefits. The Company believes that in order for an artist to be successful the artist has to financially contribute side by side with the Gallery. In the past, Galleries would bear the entire financial burden with the artist contributing their work for sale. The artist and gallery would typically split the cost of the future sale. That business model no longer works because the cost of properly promoting an artist has risen so high that most Galleries simply don't have the financial resources to do a professional and adequate job of marketing its artists. That is why Artisan Direct has created a Gallery Membership program for each of its Galleries. We believe this is the most practical and effective way to really help an artist.

Please advise me if you are interested in discussing this new artist – gallery relationship.

Thank you very much.

Jayson Samuel
jayson@artisandirectltd.net
---
OPEN CALL
"THE GRAND HARVEST"
International Juried Show
SATURDAY, OCTOBER 20 to SUNDAY, DECEMBER 9, 2012
DEADLINE: Saturday, September 29, 2012

Download Application Form
People often say that it takes at least 15 years to make an organization grow and mature. The not- for-profit WAH Center (Williamsburg Art & Historical Center) took 16 years to come this far while learning many lessons along the way.

The WAH Center has endeavored to fulfill the founder's "Bridge Concept" - the idea of which is to coalesce diverse artistic communities and create a global bridge with emerging and established artists of all disciplines. We hope that our programs have inspired, educated and entertained the public at large, and we wish to express our sincere thanks to those kind supporters who had faith in the WAH Center's unique mission and helped us grow. All of the noble ideas of "WAH" will be reminded, for WAH in Japanese means "Peace, Harmony and Unity".

So, this fall we celebrate what the WAH Center has cultivated over the years and also what nature has provided in the harvest. Housed in a New York City and National Landmark, the WAH Center will offer this fall not only a fine art show but also a Gala Dinner and various performance programs for The Sweet 16th Anniversary Harvest Celebration. In this spirit, our open call provides an opportunity for outstanding artists to showcase work to new audiences in Williamsburg, a prominent art community in Brooklyn, New York and to national and international visitors from around the world.

The WAH Center is now accepting submissions for The Grand Harvest, an international juried show. Theme: How do artists envision the greening or re-greening of the world? What technologies do artists envision to assure the crops and foods for tomorrow from earth and sea?

ACCEPTANCE Notification of accepted work will be sent via email by Sun. October 7, 2012 ELIGIBILITY This call for entries is open to all international artists, working in any medium. Applications must be submitted via email: please see complete instructions below. For video and performance submissions, artists must provide links to their work online or send a DVD to the WAH Center. Application materials sent by post will not be returned. Artists are responsible for the shipment and delivery of their work. Further requirements for accepted work to follow upon selection.

ENTRY FEE $30 Entry Fee must be postmarked by Sat. September 29 2012 Please mail check payable to WAH Center (Williamsburg Art & Historical Center) to: 135 Broadway, Brooklyn, NY, 11211, USA


WAH Center (Williamsburg Art & Historical Center), 135 Broadway, Williamsburg Brooklyn, NY 11211 USA
(718) 486-7372 or (718) 486-6012 • wahcenter@earthlink.net
©1997-2012 Williamsburg Art & Historic
Williamsburg Art & Historical Center, Brooklyn, New York USA
www.wahcenter.net
The Williamsburg Art and Historical Center, in Williamsburg, Brooklyn NY, is "...the emerging nexus ..."
---
"NO HARD DRUGS" by World League "Mind Free of Drugs"
"Maya" contest is devoted to the problem of drug addiction, and creative people from all over the world are invited to participate. The Organizing Committee "Maya" accepts works, based on real events on its official e-mail address: info@mayaplanet.org
All works should reflect the problem of drug addiction. Any person who has attained 10 years of age can participate in competition, no matter if the work was already displayed somewhere before.
The goal of the project is to provide the opportunity for mankind through the Transnational Internet contest "Maya" to see the harsh reality of unsightly life of people who use drugs, to hear the truth about drugs from drug addicts and their families. At the global level, "destroy" attractive myths about the drug Universe.
Technical requirements for entries:
1) For video: video format FLV, AVI, MPEG
2) For photographs and drawings: the files in JPEG
3) For text works: story of no more than ten A4 pages printed in 12-m size of the font
The contest works authors will be presented to money awards and prizes valued in accordance with the nominations.
Video
1st place - 15 000$, Ipad 2, book «Fatal red poppies»
2nd place - 10 000$, Ipad 2, book «Fatal red poppies»
3rd place - 5 000$, Ipad 2, book «Fatal red poppies»
Photo
1st place - 10 000$, Ipad 2, book «Fatal red poppies»
2nd place - 5 000$, Ipad 2, book «Fatal red poppies»
3rd place - 2 000$, Ipad 2, book «Fatal red poppies»
Drawing
1st place - 5 000$, Ipad 2, book «Fatal red poppies»
2nd place - 3 000$, Ipad 2, book «Fatal red poppies»
3rd place - 2 000$, Ipad 2, book «Fatal red poppies»
Confessional Story
1st place - 5 000$, Ipad 2, book «Fatal red poppies»
2nd place – 3 000$, Ipad 2, book «Fatal red poppies»
3rd place - 2 000$, Ipad 2, book «Fatal red poppies»
For more details, please, see the official web-site: http://mayaplanet.org/eng/about
Contacts:
The World League 'Mind Free of Drugs'
Tel/Fax + 996 312 650398 (Kyrgyzstan), +1 646 4529381 (USA), +7 965 7521562 (Russia)
E-mail: freeofdrug@gmail.com
www.outofdrug.org, www.mayaplanet.org
Postal Address: 720054, Kyrgyzstan, Bishkek, Fuchik Street 34